About Us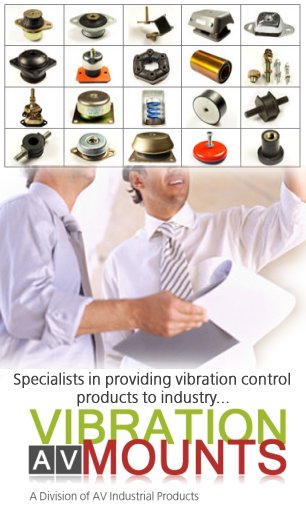 We offer the largest range of anti vibration mounts, shock mounts, vibration isolators, rubber engineering components and AV mounts from stock for next day delivery throughout the UK and Europe, at the very best possible prices.
In addition to our anti vibration mounts we offer a comprehensive technical back-up service, including computer aided design and application facility, on site vibration surveys and full product testing to ensure product compliance and customer satisfaction.
Our anti vibration mounts and shock mountings are used for various diverse applications including:-
Diesel engines & IC prime movers,
Power Generation,
Earth moving and Construction equipment,
Medical and Health care equipment,
Agricultural,
Material handling and conveyors,
HVAC,
Aerospace,
Electronic,
Military and Defence, and
Marine.
The company is based in Leicester (central England) with easy access to all motorway networks. It was founded approximately 20 years ago with links with the anti-vibration mounting industry for over 40 years, so is well positioned to offer expert advice and specialist knowledge of all vibration control products and applications.
As well as offering an extremely wide range of standard products for next day delivery, We also offer custom made products in a wide range of elastomers including natural and synthetic rubber bonded to such materials as steel, stainless steel, aluminium and various plastics.
Decades of experience
Unbeatable Value
High Quality product compliance
Product testing - Physical and chemical material analysis
Product design criteria
With many years experience and expertise in the supply, manufacture and specifying of anti-vibration mounts, shock isolators and rubber suspension systems and bearings, we have an outstanding reputation for our ability and awareness of all the disciplines needed to supply top quality rubber bonded anti-vibration mountings and shock control products to the highest quality standards at the very best competitive prices.
This includes in-house physical testing of the components, testing of the elastomers chemical compositions, material selections and testing; NDT testing; computer, manufacturing technologies and design and application criteria, all to our own high engineering specifications and standards
Above all our philosophy is to invest in people to ensure they are dedicated in providing the up most in customer satisfaction and value.
That's why today we are proud to supply many of the UK, Europe and other parts of the worlds leading 'household name' companies.